Safari Dog Flea Comb for Shorthaired Breeds
UPC: Loading…
Item Number: Loading…
Helps detect fleas early to prevent further infestation.
Identifies dry, flaky skin to help reduce skin irritation.
Perfect for short haired breeds.
Contoured to fit in your palm for better control.
Easy to use, just start at the head of the dog and brush throughout down to the tail.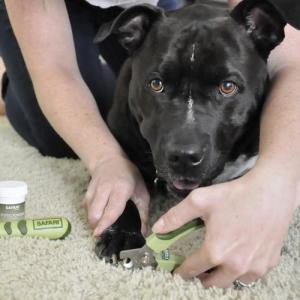 You want Complete Care
Caring for your dog is about the basic essentials of feeding and grooming, but it's also about tackling issues as they arise. Coastal Pet offers an array of solutions for walking, training and safety concerns that help you maintain a happy, healthy relationship with your dog.
Description
Keep your shorthaired dog safe from flea infestations with the Safari® Dog Flea Comb for Shorthaired Breeds. This specialized comb is designed to cater to the unique grooming needs of dogs with short coats and help you detect and remove fleas early. Fleas can be a significant nuisance for both dogs and their owners. Detecting and addressing fleas early is essential to prevent further spreading and discomfort for your dog. The bristles of this comb are expertly designed to reach deep within your dog's short coat to pull out fleas effectively. After each stroke, simply dip the comb into a cup of water with mild detergent to remove the captured fleas. Besides detecting fleas, these combs also help identify dry, flaky skin in its early stages. This allows you to apply treatment promptly to prevent further discomfort for your dog. Especially during flea season in the spring and summer, these flea combs are invaluable tools to include in your dog's grooming routine. By using them regularly, you can help ensure a happy and healthy dog.
Features
Flea Removal. Great for Short Hair.
Applications
Removes fleas and debris.