Safari Dog Flexible Slicker Brush
UPC: Loading…
Item Number: Loading…
Reduces shedding to keep your dog and home clean.
Flexible head contours to your dog for all-over grooming.
Gently removes excess hair and tangles with stainless steel pins.
Comfort-grip handle makes it easy to use.
Keeps a variety of coat types healthy and beautiful.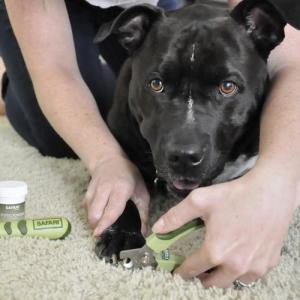 You want Complete Care
Caring for your dog is about the basic essentials of feeding and grooming, but it's also about tackling issues as they arise. Coastal Pet offers an array of solutions for walking, training and safety concerns that help you maintain a happy, healthy relationship with your dog.
Description
Elevate your dog's grooming routine with the Safari® Dog Flexible Slicker Brush! This top-tier grooming tool is designed to provide your dog with a comfortable and thorough grooming experience. The key feature of this brush is its flexible head, which adeptly contours to your dog's unique body shape, ensuring all-over grooming that is both efficient and comfortable. Equipped with stainless steel pins, it gently and effectively removes tangles and loose hair from every inch of your dog, offering an added layer of comfort, especially in sensitive areas. The extra-long pins delve deep into your dog's coat, making the removal of loose undercoat and the reduction of shedding a breeze. But it's not just about functionality; this brush also boasts a comfortable grip handle, ensuring that the grooming process is a pleasant experience for you as well. By using the Safari® Dog Flexible Slicker Brush regularly, you can maintain your dog's coat in a healthy and beautiful condition, keeping your furry friend looking and feeling their best.
Applications
Works on all coat types. Ideal for everyday use.