Safari Dog Self-Cleaning Slicker Brush
UPC: Loading…
Item Number: Loading…
Grooming your dog has never been easier! With its retractable pins, cleaning this brush is as simple as pushing a button.
Gentle, stainless steel pins will ensure that your pup gets properly groomed without irritating her skin.
Comfort grip handle is made for your comfort and ensures a sturdy grip which in-hand provides amazing grooming results.
Pin design ensures thorough grooming with minimal effort.
Keep your home cleaner just by regularly grooming your pet. Keep the hair off your clothes and furniture, and into the trash!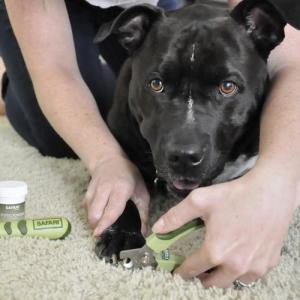 You want Complete Care
Caring for your dog is about the basic essentials of feeding and grooming, but it's also about tackling issues as they arise. Coastal Pet offers an array of solutions for walking, training and safety concerns that help you maintain a happy, healthy relationship with your dog.
Description
Introducing the Safari Self-Cleaning Slicker Dog Brush, an exceptional grooming tool designed to provide ease and effectiveness in maintaining your dog's coat. Equipped with stainless steel pins that effortlessly retract for seamless clean-up, this brush ensures the gentle removal of mats, tangles, and loose hair. With consistent use, these top-tier, self-cleaning slicker brushes go beyond just grooming – they contribute to a reduction in shedding, promoting a healthier coat and a tidier home environment. The non-slip grip feature ensures effortless and comfortable grooming sessions, allowing you to care for your dog with ease. Regular grooming not only keeps your dog's coat clean and healthy but also strengthens the bond between you and your beloved pet. Invest in the well-being of your furry friend and the cleanliness of your living space with the Safari Self-Cleaning Slicker Dog Brush.
Applications
Works on all coat types. Ideal for everyday use.