Safari Dog Nail File
Please Log In…
Pricing is available for Coastal Pet business accounts.
UPC: Loading…
Item Number: Loading…
Conforms to the shape of dog's nails
Nail file ensures a smooth finish
Removes burs, leaving dog's nails smooth and healthy
Do not file in opposite direction of the nail's contour
Covered by Coastal's Satisfaction Guarantee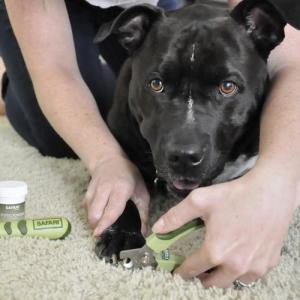 You want Complete Care
Caring for your dog is about the basic essentials of feeding and grooming, but it's also about tackling issues as they arise. Coastal Pet offers an array of solutions for walking, training and safety concerns that help you maintain a happy, healthy relationship with your dog.
Description
The Safari Dog Nail File is specially contoured to conform to the shape of your pet's nails. Holding the toe firmly, file in a smooth stroke on the tip of the nail. File from the back to the tip, following the contour of the nail. Do not file in the opposite direction. A few strokes on each side of the nail will remove burs and leave your pet's nails smooth and healthy. Properly trimming and filing nails is important to your pet's comfort and health. Be sure to accustom your dog to having its nails trimmed at an early age to make the experience an enjoyable one and increase the bond between you and your dog.
Applications
Keeps nails smooth and healthy.