Safari Curved Firm Slicker Dog Brush
UPC: Loading…
Item Number: Loading…
Maintains a healthy, beautiful coat on dogs of all sizes and hair lengths.
Curved design contours to dog for improved performance.
Coated stainless steel tips ensure gentle but effective grooming.
No-slip handle provides a secure grip while brushing.
Easily removes tangles and mats from coat.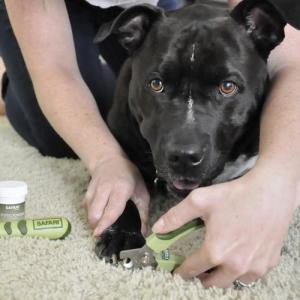 You want Complete Care
Caring for your dog is about the basic essentials of feeding and grooming, but it's also about tackling issues as they arise. Coastal Pet offers an array of solutions for walking, training and safety concerns that help you maintain a happy, healthy relationship with your dog.
Description
Facilitate grooming sessions with ease using the Safari Curved Firm Slicker Dog Brush. This grooming tool is designed to make coat maintenance a breeze for dogs of all coat types, whether they have thin, medium, or thick fur. The coated tips of this slicker brush are gentle and comfortable for your dog, effectively removing tangles and loose hair. The brush's unique curved design contours to your dog's body, ensuring that you can groom every inch of your furry friend with ease. Grooming is made even more convenient with the non-slip handle, allowing you to use long, gentle strokes while avoiding the removal of excess undercoat. For dogs with thicker coats, more frequent grooming may be necessary, while short-haired breeds can benefit from weekly grooming. Incorporate the Safari Curved Firm Slicker Dog Brush into your grooming routine to help your dog maintain a beautiful coat and a comfortable, tangle-free experience.
Features
Great for Short Hair. Great for Long Hair.
Applications
Works on all coat types. Ideal for everyday use.