Safari Bristle Dog Brush with Bamboo Handle
UPC: Loading…
Item Number: Loading…
Removes dirt and debris for a clean, healthy coat.
Distributes natural oils throughout the coat for added shine.
Gently but effective grooming with soft bristle bristles.
Comfortable gripping with eco-friendly bamboo handle.
Perfect for a variety of coat types.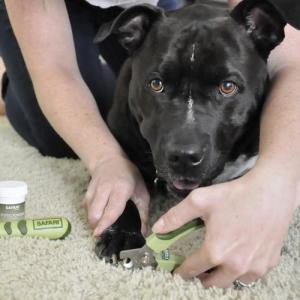 You want Complete Care
Caring for your dog is about the basic essentials of feeding and grooming, but it's also about tackling issues as they arise. Coastal Pet offers an array of solutions for walking, training and safety concerns that help you maintain a happy, healthy relationship with your dog.
Description
Elevate your dog's grooming routine with the Safari® Bristle Dog Brush featuring a Bamboo Handle! This brush is thoughtfully designed to clean and shine your dog's coat effectively and comfortably. Its soft bristles provide a gentle yet thorough method for removing dirt and debris from your dog's hair. Furthermore, the brush excels at distributing the natural oils present in your dog's coat, leaving it with a stunning shine. Its eco-friendly bamboo handle adds a touch of sustainability to the grooming experience while ensuring a comfortable grip. Using the brush is simple and straightforward. Angle the brush and employ short, quick strokes to effectively remove debris. Then, switch to long, flowing strokes from head to tail to ensure the natural oils are evenly distributed. With the Safari® Bristle Dog Brush with Bamboo Handle, you can easily keep your dog's coat clean, soft, and brilliantly shiny, ensuring that they look and feel their best every day.
Features
Great for Short Hair. Great for Long Hair. Eco-Friendly.
Applications
For general grooming. Ideal for everyday use.