Safari Dog Shedding Combs
UPC: Loading…
Item Number: Loading…
Features a contoured wooden handle that is durable and made to last.
Easily lifts and removes loose hair to control shedding and prevent matting.
Different sized teeth ensures deep undercoat combing while collecting loose fur.
Pain-free design will ensure the best grooming results while not irritating your dog's skin.
Reduces shedding to keep your dog and home clean.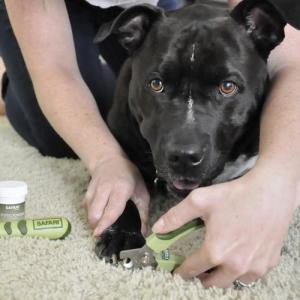 You want Complete Care
Caring for your dog is about the basic essentials of feeding and grooming, but it's also about tackling issues as they arise. Coastal Pet offers an array of solutions for walking, training and safety concerns that help you maintain a happy, healthy relationship with your dog.
Description
The Safari Dog Shedding Combs are your ideal tool for reducing shedding and getting rid of loose hair in all types of dog coats. These combs are available in versions designed for both shorthaired and longhaired dogs, ensuring a tailored solution for your pet's specific needs. Featuring a contoured wooden handle, these shedding combs are crafted with both user and pet comfort in mind. The design incorporates smooth, rounded long teeth that expertly penetrate deep into the undercoat, while the shorter teeth effectively gather loose hair. As you comb, the Safari Dog Shedding Comb gently glides through your dog's coat. To use this comb effectively, begin combing from the head and work your way toward the tail, continuing down the legs. Take small sections at a time, always combing in the direction of hair growth, until all tangles are successfully removed. With the Safari Dog Shedding Combs, you can maintain a clean and healthy coat for your canine companion while ensuring a comfortable grooming experience.
Applications
Smooth, rounded teeth combs for complete grooming.