Safari Professional Dog Nail Trimmer
UPC: Loading…
Item Number: Loading…
The Safari Professional Nail trimmer for dogs is made from the finest quality stainless steel which will give you a long-lasting, sharp cutting edge that will stand the test of time.
Uniquely designed to offer you a non-slip, comfortable grip that will allow you maintain control when trimming your dog's nails. This will also help prevent any painful accidents.
Great for both professional groomers and pet parents alike.
Features a double-bladed cutter with a tension spring that helps ensure a swift clean cut. This makes nail trimming less like a chore and is great for left or right hand use.
Innovative safety stop greatly reduces risk of injury.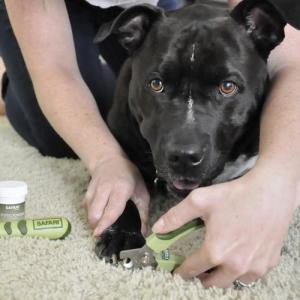 You want Complete Care
Caring for your dog is about the basic essentials of feeding and grooming, but it's also about tackling issues as they arise. Coastal Pet offers an array of solutions for walking, training and safety concerns that help you maintain a happy, healthy relationship with your dog.
Description
Invest in the finest quality for your furry friend with the Safari Professional Stainless Steel Dog Nail Trimmers, crafted to offer a long-lasting, sharp cutting edge that stands the test of time. Nail trimming should be a routine aspect of your dog's grooming regimen, and these professional-grade trimmers are up to the task. Keeping your dog's nails properly trimmed is essential for their overall well-being, ensuring comfort and reducing the risk of injury from overgrown nails. For a positive and stress-free experience, it's advisable to introduce your dog to nail trimming at an early age, making it a routine part of their care. This not only ensures that your pet remains comfortable during the process but also fosters a stronger bond between you and your canine companion. Make the Safari Professional Stainless Steel Dog Nail Trimmers an integral part of your dog's grooming routine, and provide them with the comfort and care they deserve.
Applications
For nail trimming and maintenance.