Safari Dog De-Matting Comb
UPC: Loading…
Item Number: Loading…
Easily removes stubborn mats and tangles with serrated stainless steel blades.
Perfect for dogs with coarse or long, matted coats.
Can be used on both medium and long haired dogs.
Handle designed for comfortable gripping.
Keeps coats soft, smooth and healthy.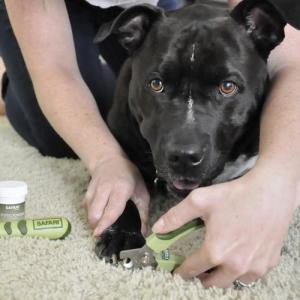 You want Complete Care
Caring for your dog is about the basic essentials of feeding and grooming, but it's also about tackling issues as they arise. Coastal Pet offers an array of solutions for walking, training and safety concerns that help you maintain a happy, healthy relationship with your dog.
Description
Effortlessly untangle even the most stubborn knots with the exceptional Safari® Dog De-Matting Comb! Boasting finely serrated stainless steel blades, this specialized comb is meticulously crafted to glide through and eliminate mats and tangles with remarkable ease. An absolute necessity for dogs flaunting coarse or lengthy, matted coats, it's also a valuable tool for those with medium-length hair. The comb's ingeniously designed blades ensure a grooming process that is both gentle and highly effective. Elevate your grooming routine by embracing the prowess of this de-matting comb, your ultimate solution for maintaining your beloved dog's coat in a consistently soft and beautiful condition.
Features
Great for Long Hair.
Applications
Designed to easily remove mats and tangles from a variety of coat types.