Safari Dog Nail Trimmer
UPC: Loading…
Item Number: Loading…
Sharp, long-lasting cutting edge helps trim nails cleanly and quickly.
Classic scissor-like design for ease of use and better control.
Perfect for petite dogs, puppies, and small animals.
Semi-circular blade shape allows you to see exactly where you're cutting for more precision cuts.
Covered by Coastal's Satisfaction Guarantee.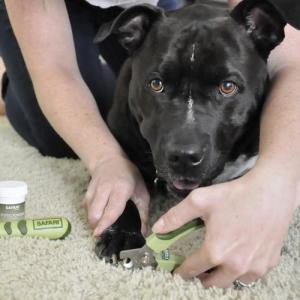 You want Complete Care
Caring for your dog is about the basic essentials of feeding and grooming, but it's also about tackling issues as they arise. Coastal Pet offers an array of solutions for walking, training and safety concerns that help you maintain a happy, healthy relationship with your dog.
Description
Introducing the Safari Dog Nail Trimmer – a scissor-style nail grooming tool designed for precision and comfort. This trimmer boasts a durable, long-lasting cutting edge that ensures a clean and efficient trim every time. Specifically crafted for petite dogs, puppies, and small animals, it's the ideal choice for delicate paws. Ensuring your furry friend's nails stay in top shape is not just about aesthetics; it's about their overall well-being. That's why we recommend acclimating your dog to nail trimming from an early age. This practice not only makes the experience enjoyable for your pet but also deepens the bond between you and your beloved companion. Remember, maintaining properly trimmed nails is crucial for your dog's health and comfort. The Safari Dog Nail Trimmer is here to help you prioritize your pet's well-being, making nail care a breeze and ensuring those adorable little paws stay happy and healthy.
Applications
For nail trimming and maintenance.