Safari Pet Hair Roller
UPC: Loading…
Item Number: Loading…
Super-sticky tape roll removes lint and fur quickly and easily.
Works well on furniture, clothing, car seats and more.
Ergonomic grip handle fits comfortably in your hand and makes usage more comfortable.
Convenient hanging loop built into the handle so you can hang it where it's handy.
Helps remove pests and shed from furniture around your house for a cleaner home.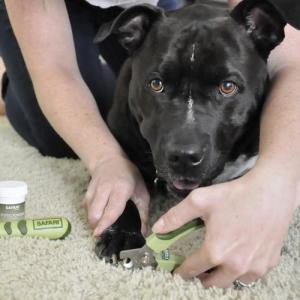 You want Complete Care
Caring for your dog is about the basic essentials of feeding and grooming, but it's also about tackling issues as they arise. Coastal Pet offers an array of solutions for walking, training and safety concerns that help you maintain a happy, healthy relationship with your dog.
Description
Keep your home and clothing free from pet hair, dander, lint, and dust with the Safari Pet Hair Roller. This handy tool features easy-to-peel, diagonal sheets that efficiently remove unwanted fur and debris. Its contoured handle is designed for a comfortable grip, making the hair-removal process effortless and enjoyable. With the Safari Pet Hair Roller, you can maintain a clean and tidy environment, free from pet-related messes. Say goodbye to fur-covered furniture and clothing, and embrace a cleaner and more comfortable living space. Make the Safari Pet Hair Roller a part of your cleaning routine, and enjoy the benefits of a hair-free home and wardrobe.
Applications
Keeps clothing and furniture free from pet hair and dander.