Safari Dog Single Row Undercoat Rake with Rotating Pins
UPC: Loading…
Item Number: Loading…
Deeply penetrates undercoats with precision tapered pins to prevent matting.
Maintains a healthy, beautiful coat by removing mats and tangles.
Rounded rotating pins offer added comfort.
Single-row rakes designed for medium- and long-haired coat lengths.
Covered by Coastal's Satisfaction Guarantee.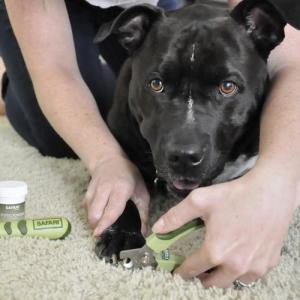 You want Complete Care
Caring for your dog is about the basic essentials of feeding and grooming, but it's also about tackling issues as they arise. Coastal Pet offers an array of solutions for walking, training and safety concerns that help you maintain a happy, healthy relationship with your dog.
Description
Elevate your dog's grooming routine with the Safari® Dog Single Undercoat Rake featuring Rotating Pins, the ultimate tool for maintaining a healthy, tangle-free coat. Designed to tackle even the most stubborn tangles and mats, this precision instrument boasts rotating pins that penetrate deeply into your dog's coat. By doing so, it effectively loosens and removes those pesky knots, leaving your furry friend with a smooth and radiant coat. What sets this undercoat rake apart is its commitment to your dog's comfort. The rounded tips of the pins provide an added layer of gentleness, ensuring a pleasant grooming experience for your pet. Suitable for medium and long-haired dog coats, this versatile rake can be used on both wet and dry fur. It's a reliable companion for maintaining your dog's coat health, no matter the situation. Pamper your canine companion and keep their coat in top-notch condition with the Safari® Dog Single Undercoat Rake with Rotating Pins.
Features
Great for Long Hair.
Applications
Prevents matting with regular use.