Natural Control Training Collar
UPC: Loading…
Item Number: Loading…
Prevents unwanted pulling behavior
Fully adjustable with easy to add and remove links
Rounded prongs for a gentler correction
Imitates the natural correction techniques of mother dogs
Has the approachable appearance of a traditional dog collar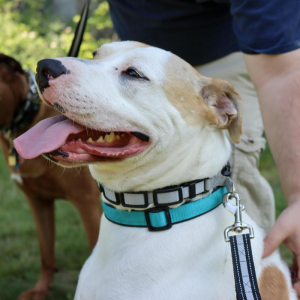 You want Complete Care
Caring for your dog is about the basic essentials of feeding and grooming, but it's also about tackling issues as they arise. Coastal Pet offers an array of solutions for walking, training and safety concerns that help you maintain a happy, healthy relationship with your dog.
Description
Introducing the Natural Control Training Collar – a revolutionary tool that effectively curbs pulling behavior by drawing from the natural correction techniques employed by mother dogs with their puppies. This collar's innovative design is grounded in the concept of emulating canine behavior correction. The rounded teeth of the collar, combined with the martingale function, produce a mild pinching action that acts as an interrupter for your dog's undesirable behavior. This intervention effectively puts a halt to pulling, making walks more enjoyable for both you and your pup. The interwoven nylon links contribute to a modern and welcoming aesthetic, seamlessly merging style and function. Elevate your training efforts with the Natural Control Training Collar, harnessing the power of nature-inspired correction to foster a harmonious walking experience while prioritizing your dog's comfort and well-being.
Features
Adjustable. Martingale. No-Pull.