Safari Nylon Coated Tip Dog Brush for Shorthaired Breeds
UPC: Loading…
Item Number: Loading…
Designed just for dogs with short hair.
Penetrates deep in your dog's coat to remove loose hair and undercoat and reduce shedding.
Nylon-coated rubber pins gently massage as you brush to distribute natural oils, making her coat healthy and shiny.
When used regularly, this brush can help your pooch have a healthy, beautiful coat.
Spending time together while grooming can improve the bond between you and your furbaby.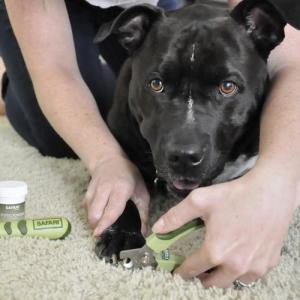 You want Complete Care
Caring for your dog is about the basic essentials of feeding and grooming, but it's also about tackling issues as they arise. Coastal Pet offers an array of solutions for walking, training and safety concerns that help you maintain a happy, healthy relationship with your dog.
Description
The Safari Nylon Coated Tip Dog Brush is a grooming tool specially designed for shorthaired dogs, offering a range of benefits to keep their coat healthy and your home clean. This versatile brush combines the advantages of a firm slicker brush and a bristle brush, making it a valuable addition to your grooming routine. The rubber pins of the brush penetrate deep into your dog's coat, effectively removing loose hair and undercoat. What sets this brush apart are the special tips on the rubber pins, which not only aid in hair removal but also provide a gentle massage to your dog's skin. This massaging action stimulates the distribution of natural oils, resulting in a healthy, shiny coat. Regular grooming with this brush helps to reduce shedding, keeping both your dog's coat and your home in better condition. Beyond its functional benefits, the time spent grooming your dog also strengthens the bond between you and your furry friend.
Applications
Designed for shorthaired dogs. Ideal for everyday use.