Safari Wire Pin Dog Brush with Bamboo Handle
UPC: Loading…
Item Number: Loading…
Short, quick strokes efficiently remove dirt and debris from coat.
Long, flowing strokes distribute natural oils to reveal a soft, shiny coat.
Wire pins offer gentle grooming.
Eco-friendly bamboo handle provides a comfortable, secure grip.
Perfect for breeds with short or long hair.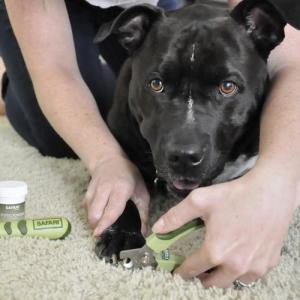 You want Complete Care
Caring for your dog is about the basic essentials of feeding and grooming, but it's also about tackling issues as they arise. Coastal Pet offers an array of solutions for walking, training and safety concerns that help you maintain a happy, healthy relationship with your dog.
Description
Give your dog the gift of a clean and lustrous coat with the Safari® Wire Pin Dog Brush, featuring a comfortable bamboo handle! This versatile brush ensures your dog's coat remains in prime condition. Its gentle wire pins excel at efficiently removing dirt and debris when you employ short, brisk strokes. However, when it's time to reveal that soft and silky shine, switch to long strokes with the brush, allowing it to distribute your dog's natural oils throughout the coat. Adding an eco-friendly touch to grooming, the bamboo handle not only showcases responsible materials but also provides a comfortable and secure grip during grooming sessions. Whether your dog boasts long or short hair, the Safari® Wire Pin Dog Brush is an essential grooming tool, delivering excellent results while keeping their coat soft and beautiful.
Features
Great for Short Hair. Great for Long Hair.
Applications
For general grooming. Ideal for everyday use.