Walk Right! Front-Connect No-Pull Padded Dog Harness
UPC: Loading…
Item Number: Loading…
Front-connect ring gently and naturally guides dogs to prevent pulling.
Designed to reduce neck strain and discomfort while walking.
Soft padded harness provides added comfort.
Back-connect ring available for standard use.
Easy to place on dog with simple over-the-head design.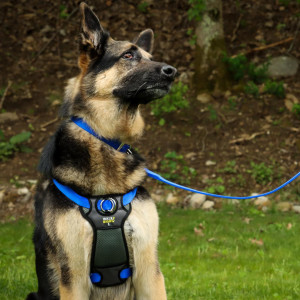 You want Complete Care
Caring for your dog is about the basic essentials of feeding and grooming, but it's also about tackling issues as they arise. Coastal Pet offers an array of solutions for walking, training and safety concerns that help you maintain a happy, healthy relationship with your dog.
Description
Prevent pulling and tugging on your next walk with the Walk Right!® Front-Connect Padded Dog Harness! This dual-connect harness features two options for hooking on your leash to train your dog to walk properly. The front connection guides your dog by the chest strap and naturally redirects attention without causing neck strain. Once your dog is walking right, the optional back connection of the harness can be used. Your dog will love the comfort of the harness's soft padding, and you'll love how easy the over-the-head design is to put on your dog. Choose your favorite color and use this harness on your next walk! When using a harness, it is essential to never leave your dog unsupervised. Our harnesses may be strong but they are not indestructible and should only be used when going on walks before being promptly taken off afterwards.
Features
Front-connect D-ring.
Applications
Teaches your dog to walk right.