Safari Dog Single Row Undercoat Rake
UPC: Loading…
Item Number: Loading…
Deeply penetrates undercoats with precision tapered pins to prevent matting.
Maintains a healthy, beautiful coat by removing mats and tangles.
Single-row rakes designed for medium- and long-haired coat lengths.
Precision tips are rounded for additional comfort.
Covered by Coastal's Satisfaction Guarantee.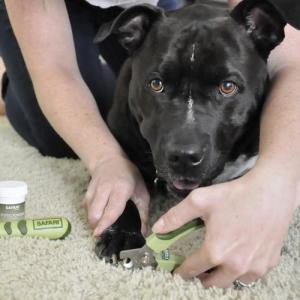 You want Complete Care
Caring for your dog is about the basic essentials of feeding and grooming, but it's also about tackling issues as they arise. Coastal Pet offers an array of solutions for walking, training and safety concerns that help you maintain a happy, healthy relationship with your dog.
Description
Elevate your dog's grooming routine with the Safari® Dog Single Undercoat Rake, an essential tool crafted to ensure your furry friend's coat remains healthy, tangle-free, and immaculate. Experience grooming precision like never before, as the tapered pins of the rake penetrate deeply into your dog's coat. By skillfully loosening and eliminating tangles and mats, this rake guarantees a coat that radiates with health and luster. The rounded tips of the pins also provide an added layer of comfort, ensuring your dog's grooming experience is as pleasurable as it is effective. Tailored to cater to medium and long-haired dog coats, the undercoat rake stands as a versatile solution to maintaining a pristine appearance. Whether your dog's coat is wet or dry, this tool proves its effectiveness across various grooming scenarios. Invest in the well-being and appeal of your furry companion with the Safari® Dog Single Undercoat Rake.
Features
Great for Long Hair.
Applications
Prevents matting with regular use.