Safari Dog Safety Scissors
UPC: Loading…
Item Number: Loading…
Ball point design makes these sharp scissors safe to handle, reducing the risk of harm to pets and humans.
Pre-sharpened stainless-steel scissors ensure a smooth and even trim, right out of the package.
Features an extra finger rest for added comfort during lengthy grooming sessions.
Perfect for trimming around pet's eyes, face, ears, and paws.
Covered by Coastal's Satisfaction Guarantee.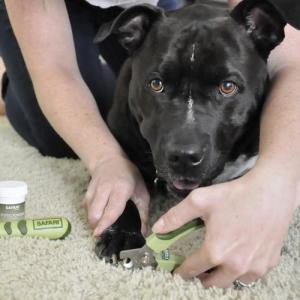 You want Complete Care
Caring for your dog is about the basic essentials of feeding and grooming, but it's also about tackling issues as they arise. Coastal Pet offers an array of solutions for walking, training and safety concerns that help you maintain a happy, healthy relationship with your dog.
Description
Achieve precise grooming with the Safari Dog Safety Scissors, designed for trimming hair around your dog's eyes, face, ears, and paws. Crafted with top-notch stainless steel blades, these scissors ensure a long-lasting, sharp cutting edge for effortless trimming. The rounded ends on the blades provide the safety required when working on delicate areas, giving you peace of mind during grooming sessions. Pamper your furry friend with professional-quality grooming, thanks to the Safari Dog Safety Scissors, offering precision and safety for those essential grooming tasks. Keep your dog looking their best and maintain their comfort with these reliable and effective grooming scissors.
Applications
To safely trim hair around eyes, face and delicate areas.