Safari Dog Soft Slicker Brush
UPC: Loading…
Item Number: Loading…
Works great on all dog breeds.
The stainless steel pins are designed to remove mats and tangles in an effortless way.
With frequent use, this product will help maintain a healthy coat.
Helps keep your home fur-free. Maintain a cleaner home by keeping your dog's extra hair off your clothes and furniture.
Ergonomic no-slip grip handle.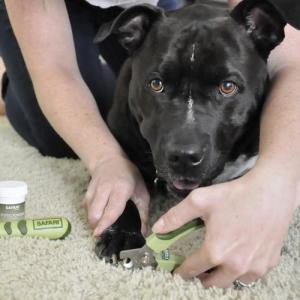 You want Complete Care
Caring for your dog is about the basic essentials of feeding and grooming, but it's also about tackling issues as they arise. Coastal Pet offers an array of solutions for walking, training and safety concerns that help you maintain a happy, healthy relationship with your dog.
Description
Your search for a gentle yet effective slicker brush ends with the Safari Dog Soft Slicker Brush. Crafted with your dog's coat in mind, this brush is a game-changer. Featuring stainless steel pins, this brush swiftly and effortlessly eliminates mats, tangles, and loose hair, ensuring your dog's coat remains in impeccable condition. The high-quality design doesn't stop at grooming – regular use of this brush works wonders in reducing shedding, fostering a healthier coat for your furry friend and a tidier home for you. The non-slip grip adds a touch of practicality to grooming sessions, guaranteeing a comfortable experience for both you and your dog. The soft slicker brush strikes the perfect balance between gentleness and effectiveness, making it an essential tool for your pet care routine. Choose the Safari Dog Soft Slicker Brush for a grooming experience that's both comforting and efficient.
Applications
Works on all coat types. Ideal for everyday use.