Safari Pet Styptic Powder
Please Log In…
Pricing is available for Coastal Pet business accounts.
UPC: Loading…
Item Number: Loading…
Quickly and effectively stops bleeding from too-closely trimmed nails and minor cuts
Cut your pet's nails or groom without fear of bleeding
Safe for external use on dogs, cats and small animals
To use: apply powder to affected area with clean cotton swab or gauze and apply moderate pressure
Do not use on open wounds, burns or in body cavities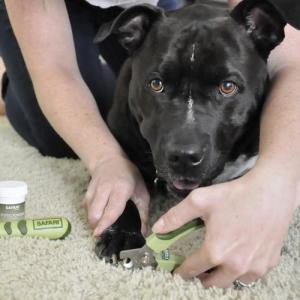 You want Complete Care
Caring for your dog is about the basic essentials of feeding and grooming, but it's also about tackling issues as they arise. Coastal Pet offers an array of solutions for walking, training and safety concerns that help you maintain a happy, healthy relationship with your dog.
Description
Nicks happen, even to the best groomers. But you don't have to panic the next time you see blood when you've got Safari® Pet Styptic Powder on hand. Whether you accidentally trimmed a nail too closely or found a minor cut on your dog, use this powder to quickly stop the bleeding.
Applications
Apply to affected area to stop bleeding.