Safari Pin and Bristle Combo Dog Brush with Bamboo Handle
UPC: Loading…
Item Number: Loading…
Provides two grooming tools in one with dual design.
Easily removes loose hair and debris with wire pins.
Bristles distribute natural oils evenly throughout coat for healthy, shiny hair.
Comfortable gripping with eco-friendly bamboo handle.
Perfect for a variety of coat types.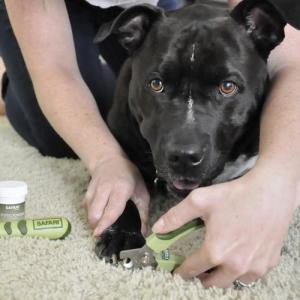 You want Complete Care
Caring for your dog is about the basic essentials of feeding and grooming, but it's also about tackling issues as they arise. Coastal Pet offers an array of solutions for walking, training and safety concerns that help you maintain a happy, healthy relationship with your dog.
Description
Get two grooming tools in one with the Safari® Pin and Bristle Combo Dog Brush with Bamboo Handle! This innovative design features both wire pins and bristles to do all of your dog's grooming with one tool. The wire pins lift out loose hair and debris, while the bristles help distribute your dog's natural oils for a healthy, shiny coat. The comb is easy to use: Start by removing mats and tangles, then brush from head to tail to distribute natural oils. Or, add some fluff to your dog's coat by brushing against the direction of hair growth. You'll love the soft grip from the eco-friendly bamboo handle, and your dog will love the gentle feel of the brush. Use this brush for all of your grooming needs!
Features
Bamboo.
Applications
Ideal for everyday use. Distributes natural oils for a shiny, healthy coat and lifts out loose hair and debris.