Safari Medium Dog Comb with Rotating Teeth
UPC: Loading…
Item Number: Loading…
Rotating teeth make it easy to remove tangles and mats.
Gentle, no-fuss grooming with soft, rounded tips.
Maintains a soft, beautiful coat.
Intuitive, easy-to-use design.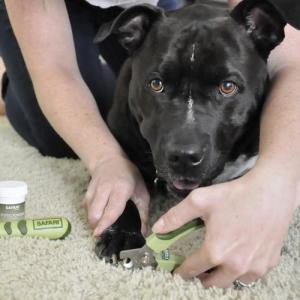 You want Complete Care
Caring for your dog is about the basic essentials of feeding and grooming, but it's also about tackling issues as they arise. Coastal Pet offers an array of solutions for walking, training and safety concerns that help you maintain a happy, healthy relationship with your dog.
Description
Simplify your dog grooming routine with the Safari® Medium Dog Comb with Rotating Teeth, the ideal tool for maintaining your canine companion's coat in top-notch condition. This innovative comb is equipped with rotating teeth, designed for effortless use. These rotating teeth swiftly and effectively eliminate tangles and mats from your dog's fur, ensuring a smooth and pain-free grooming experience. Your dog will appreciate the gentle touch of the comb's smooth, rounded tips, minimizing any discomfort or fuss during the grooming process. Using this comb is a breeze. Simply work through small sections of your dog's coat in the direction of hair growth, and you'll be amazed at how easily it untangles and restores their natural beauty. Regular combing with the Safari® Medium Dog Comb with Rotating Teeth will keep your dog's coat soft, lustrous, and a pleasure to touch. Make grooming a breeze and your dog's coat a source of pride with this essential tool!
Applications
Smooth, rotating teeth for easy and complete grooming.