Safari Medium Dog Comb with Rotating Teeth
Please Log In…
Pricing is available for Coastal Pet business accounts.
UPC: Loading…
Item Number: Loading…
Rotating teeth make it easy to remove tangles and mats.
Gentle, no-fuss grooming with soft, rounded tips.
Maintains a soft, beautiful coat.
Intuitive, easy-to-use design.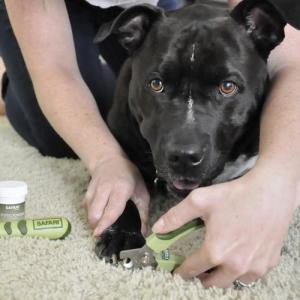 You want Complete Care
Caring for your dog is about the basic essentials of feeding and grooming, but it's also about tackling issues as they arise. Coastal Pet offers an array of solutions for walking, training and safety concerns that help you maintain a happy, healthy relationship with your dog.
Description
Groom your dog easily with the Safari® Medium Dog Comb with Rotating Teeth! This comb features rotating teeth for ease of use, quickly removing tangles and mats from your dog's coat. Plus, your dog won't fuss during grooming thanks to the gentle feel of the comb's smooth, rounded tips. To use, simply comb small sections at a time in the direction of hair growth. Comb regularly to keep your dog's coat soft and beautiful!
Applications
Smooth, rotating teeth for easy and complete grooming.