Safari Shedding Dog Comb with Rotating Teeth
UPC: Loading…
Item Number: Loading…
Reduces shedding to keep your dog and home clean.
Helps to ensure a healthy, beautiful coat.
Gentle rotating teeth comfortably pull through your dog's coat.
Long rounded teeth penetrate deep into the undercoat while short teeth collect loose hair.
Effective, easy-to-use design.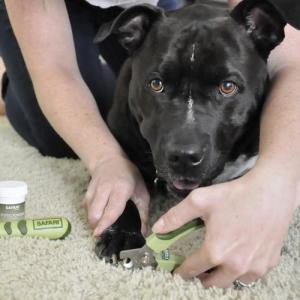 You want Complete Care
Caring for your dog is about the basic essentials of feeding and grooming, but it's also about tackling issues as they arise. Coastal Pet offers an array of solutions for walking, training and safety concerns that help you maintain a happy, healthy relationship with your dog.
Description
Keep your dog's coat clean and healthy with the Safari® Shedding Dog Comb with Rotating Teeth! This comb is designed to reduce shedding and effectively remove loose hair from all types of dog coats, even those with thick fur. Its unique design features long, rounded teeth that penetrate deep into the undercoat to remove loose hair, while the shorter teeth help collect the removed hair. The best part is that your dog will remain comfortable during grooming, thanks to the comb's soft, rotating teeth that gently glide through the coat. Grooming is a breeze with this comb. Start at the head and work your way toward the tail, moving down the legs and covering small sections at a time. Be sure to comb in the direction of hair growth until all tangles and loose hair are removed. Regular use of this comb will help you maintain your dog's coat looking healthy and beautiful. Make grooming easier and more effective with the Safari® Shedding Dog Comb with Rotating Teeth!
Features
Great for Long Hair. Great for Short Hair.
Applications
Excellent solution to reduce shedding and remove loose hair.