Safari Grooming Glove
Please Log In…
Pricing is available for Coastal Pet business accounts.
UPC: Loading…
Item Number: Loading…
Removes loose hair and debris from coat
Traps hair for easy clean up
Promotes stress-free grooming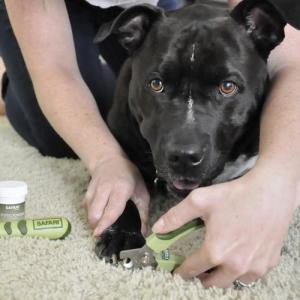 You want Complete Care
Caring for your dog is about the basic essentials of feeding and grooming, but it's also about tackling issues as they arise. Coastal Pet offers an array of solutions for walking, training and safety concerns that help you maintain a happy, healthy relationship with your dog.
Description
The Safari Grooming Glove is designed to promote a stress-free grooming experience. For dog's who are nervous around brushes and tools, a grooming glove provides the familiar look and feel of your hand. As you gently pet your dog, the unique tip design reaches deep into the fur to loosen and lift away dirt and debris, stimulating the skin and creating a relaxing message sensation for a healthy, shiny top coat. The glove fits most hand sizes and has an adjustable wrist strap to prevent sliding. The glove is perfect for daily use on most coat types, allowing you to provide your dog with all the love and stimulation of petting, while creating a new and healthy grooming routine.
Features
Easy to clean.