Safari Dual-Sided Dog Shedding Blade
UPC: Loading…
Item Number: Loading…
Keeps your dog and home clean by removing excess hair.
Ridged stainless steel blade efficiently sheds even the thickest coats.
Sheds large surface areas with handles held apart.
Targets smaller surface areas with handles held together.
Maintains a healthy, beautiful coat.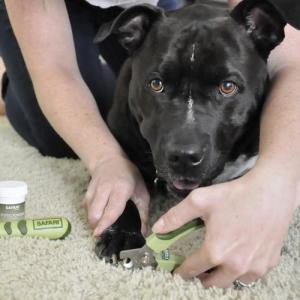 You want Complete Care
Caring for your dog is about the basic essentials of feeding and grooming, but it's also about tackling issues as they arise. Coastal Pet offers an array of solutions for walking, training and safety concerns that help you maintain a happy, healthy relationship with your dog.
Description
Maintain your dog's coat in pristine condition with the Safari® Dual-Sided Dog Shedding Blade – your key to a clean and healthy fur. Featuring a durable, ridged stainless steel blade, this grooming tool is designed for maximum efficiency in removing loose hair, ensuring both your dog and your home stay clean and hair-free. Its simplicity is its strength; all you need to do is gently stroke from head to tail, and you'll witness the shedding blade effortlessly whisk away the excess fur. For versatility in grooming, you can adjust the blade's usage by either holding the handles apart to cover larger areas or bringing them together for more precision in tackling smaller sections. Make this shedding blade a regular part of your grooming routine to ensure your dog boasts a beautiful, well-kept coat that's not only healthier but also sheds less, making it a win-win for both you and your furry companion.
Features
Great for Short Hair. Great for Long Hair.
Applications
Designed to remove loose hair for a clean, healthy coat.