Safari Guillotine Dog Nail Trimmer
UPC: Loading…
Item Number: Loading…
Regular nail care prevents injury and is an important part of keeping your pet happy and healthy.
Features a stainless-steel double-bladed guillotine-style cutter for a long-lasting, sharp cutting edge.
High-quality, durable trimmers quickly and easily trim her nails to keep them short and looking good.
Vinyl grip is designed to fit comfortably in either hand and help you keep a firm, steady grip while trimming.
Small size suitable for small to medium dogs, cats, birds and other small animals; large size suitable for medium to large dogs.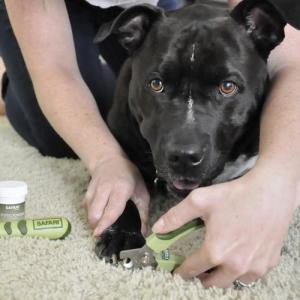 You want Complete Care
Caring for your dog is about the basic essentials of feeding and grooming, but it's also about tackling issues as they arise. Coastal Pet offers an array of solutions for walking, training and safety concerns that help you maintain a happy, healthy relationship with your dog.
Description
Maintain your dog's nails with ease using the Safari Guillotine Dog Nail Trimmers! These nail trimmers are crafted from high-quality stainless steel and feature a sharp cutting edge designed for long-lasting performance. The double-bladed guillotine trimmer is suitable for both left and right-handed use. To trim your dog's nails, hold their paw firmly and carefully trim the tip of the nail with a single stroke. It's crucial to avoid cutting into the quick, which contains the blood vessels. If your dog's nails are very long, start by trimming a small amount and then repeat the process every 7-10 days until their nails reach the desired length. After that, monthly trimming should suffice. It's essential to acclimate your dog to nail trimming from an early age to ensure it becomes a positive and stress-free experience for both you and your furry friend.
Applications
For nail trimming and maintenance.